Deadlines & Events
The education abroad process contains important dates and deadlines that are essential to your success. Program providers, faculty leaders, financial aid, universities abroad, MTSU Exchange programs, scholarships, and course registration will have different deadlines. We recommend you add these to your calendar early in the process.

Events are the best way to get to know us and what the Office of Education Abroad offers! Join us for information sessions, chat with a Global Ambassador, explore program options, learn how to apply for study abroad scholarships, meet with us during advising hours, and more.
The best way to see all of our deadlines and events in one location is on our calendar.
Click the calendar image below
to link to our MTSU 25Live calendar of events.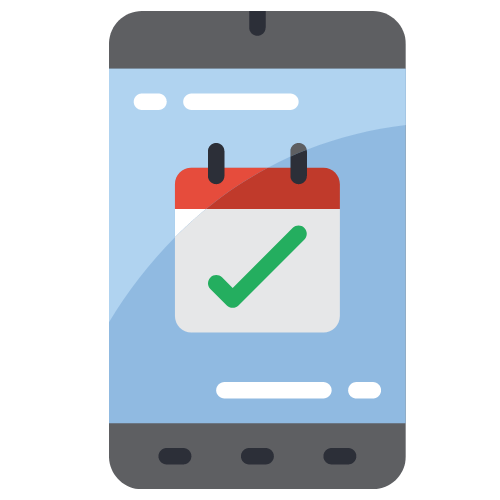 Calendar tips
Want to save an event or be reminded of the upcoming deadline?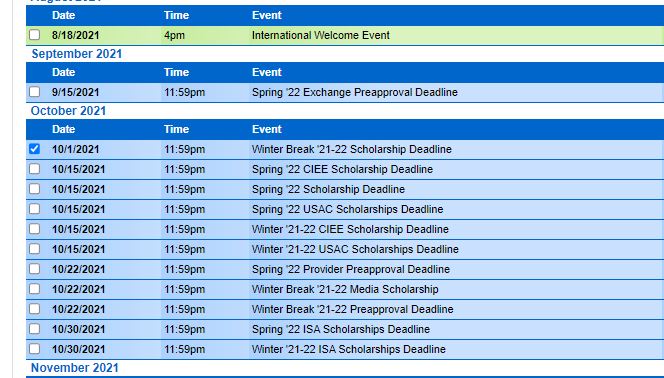 On the calendar, click the checkbox for the deadline or event.
Save:

Add to my calendar
Email reminder
Or, use the More Event Actions dropdown box to select text reminder!

International Education Week
November 15-19, 2021
Join us for International Education Week! We will host information sessions and fun student events and host the annual study abroad fair during this week.
Watch our calendar (linked above) and follow our social media for more information.

MTSU Study Abroad Fair
Join us for our annual study abroad fair to learn more about program options, financial aid for study abroad programs, meet faculty leading MTSU Signature Programs, talk with program provider representatives, strike up a conversation with an MTSU Global Ambassador, pick up swag, and more!
Our fair will be Wednesday, November 17, 2021 from 10:00 a.m. to 2:00 p.m. in the Student Union.
Please click the Instagram image below to view images from the Study Abroad Fair and other fun activities (@mtsustudyabroad, #mtsuabroad, #mtsustudyabroad)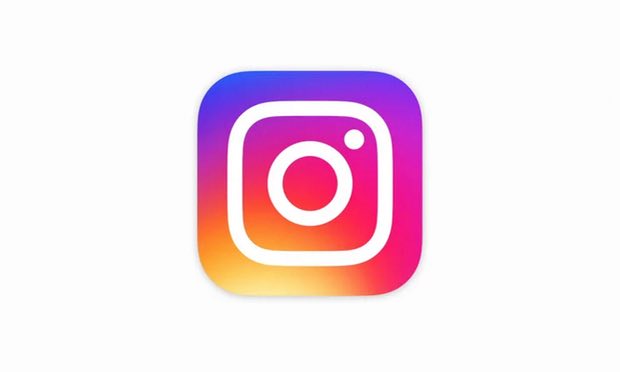 Education Abroad Zoom Info Sessions
Join us on Thursday, November 18 to learn more about study abroad programs, scholarships, and more! Zoom info sessions are informal and informative, with plenty of time to answer your questions about different study abroad topics.

Zoom links are below. Register to join us!

9:00 - 9:30 a.m. - Diversity Resources for Study Abroad Students
Join our Director, Melissa Miller to learn about diversity resources for study abroad students.
How does your identity affect your study abroad program?
What have other students experienced with racism abroad, as a student of color going abroad, LGBTQ+ identity abroad, students of faith abroad, and more?
Are there scholarships for students who are underrepresented in study abroad?
Join us for a quick dive into diversity resources for study abroad students. All students are welcome to attend! We know it is early, so grab your coffee and join our chat.
Register in advance for this meeting: Diversity and Study Abroad
10:00 - 10:30 a.m. - Study Abroad 101
Join our advisor Emily McAnally to learn the basics about study abroad.
Who, when, where, and more!
Learn about the upcoming programs led by your favorite MTSU faculty and other programs we have to offer
Scholarships and financial aid for study abroad will be discussed as well
Register in advance for this meeting: Study Abroad 101
11:00 - 11:45 a.m. - Understanding Program Costs & Scholarships
Understanding how much programs cost and how to pay for a program are essential to a successful program search and application process. Let us help you understand and overcome any financial barriers to study abroad you may have!
Join our advisor, Emily McAnally for this info session
Review program costs, which programs are less expensive and why, and things to consider when looking for a study abroad program
Scholarships will be discussed in depth including those offered by the Office of Education Abroad, campus, and outside providers
Register in advance for this meeting: Understanding Program Costs & Scholarships
12:00 - 12:30 p.m. - Study Abroad Programs in Japan and South Korea
Join us for a chat about two of our most popular study abroad destinations! We will discuss:
Semester, Academic Year exchange programs in Japan; short-term summer and winter program options in Japan
Academics offered in these programs
Semester and short-term study abroad options in South Korea
Scholarships (some specifically for programs in the Asian region) and study abroad financial aid
Register in advance for this meeting: Study Abroad Programs in Japan and South Korea
Upcoming Program Deadlines
Winter 2021-22
Pre-Departure Packet = November 19, 2021
Orientation = Thursday, November 18, 2021, 3:00 - 5:00 p.m. in BAS S328
Spring 2022 (

Exchange only

)
Media Scholarship = November 5, 2021
Pre-Departure Packet = November 19, 2021
Orientation = Same as spring 2022 (below)
Spring 2022 (all other programs)
Media Scholarship = November 5, 2021
Pre-Departure Packet = November 19, 2021
Orientation = Thursday, November 18, 2021, 3:00 - 5:00 p.m. in BAS S328
Spring Break 2022
Preapproval = January 28, 2022
Scholarship = December 17, 2021
Commitment Scholarship = December 17, 2021
Media Scholarship = December 17, 2021
Pre-Departure Packet = February 18, 2022
Orientation = To be announced (likely early February 2022)
Summer 2022
Preapproval = March 4, 2022
Scholarship = February 18, 2022
Commitment Scholarship = January 28, 2022 (Signature Faculty-Led Programs only)
Media Scholarship = February 18, 2022
Pre-Departure Packet = April 1, 2022
Orientation = To be announced (likely March or April 2022)